Allflex Syringes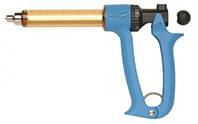 Repeater Syringes
•

Accurately deliver selected dose

•

Easy grip for high volume use

•

Color knobs available for different medications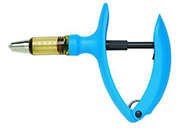 Draw Off Syringes
•

Automatic self-filling tube feed

•

Easy grip for high volume use

•

Easy to clean
Bottle Fed Syringes
•

Automatically self-filling with bottle attachment

•

Easy V-grip for high volume use

•

Accurately delivers selected dose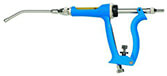 Drenchers
•

Easy-to-use grip

•

Easy-to-clean

•

Amber-colored barrel and tubing reduce UV sunlight exposure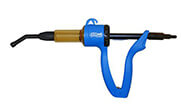 Multi-Purpose Syringes
•

Durable clear nylon construction with comfort handle

•

Visible barrel scale with dosage increments

•

Fully bailable for disinfection
Why Allflex Syringes?
Accurately delivers selected dose
Easy grips for extended use
Designed for tough conditions
Spare parts easily available
Questions?
Contact our Animal ID experts who can help you find the perfect layout or tag for your cattle.
A few considerations when choosing a syringe:
Medications that will be administered: Some of the syringe components can be affected by the makeup of the medication. For example, oil-based products slow the injection and auto-fill speeds.
Number of animals being treated: Using a syringe or drencher with a backpack is especially good when dosing a large number of animals. Many of the syringes feature a self-filling mechanism so you can treat many animals without stopping to refill.
The grip size of the syringe needs to be considered for the individual who will be administering the medications. Syringes with smaller grip sizes are a better fit for smaller hands.
Have more questions? Visit our Learning Center